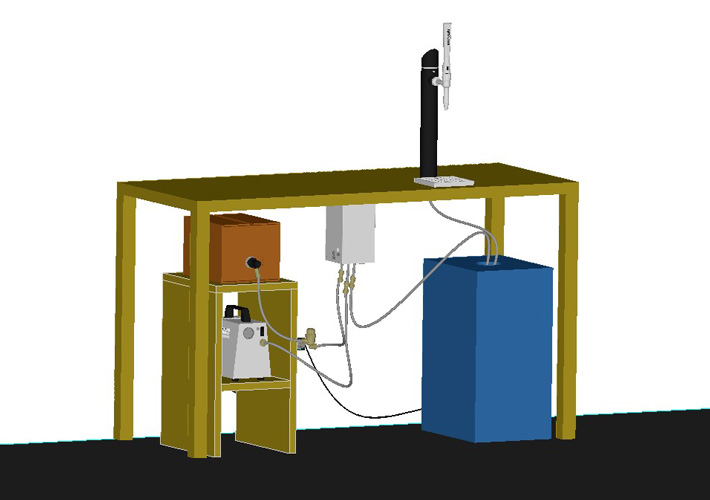 Dispense Line Integration
The dispense line integration offers a solution for existing installations with a given cooling infrastructure. As well if only a dispense tower instead of a Nitro-Dispenser is preferred.

Our core components are:
Nitro-Box
The coffee is pumped from an unpressurized container and pushed through the rest of the pipework under pressure. Compressed air or nitrogen with a pressure of 2.5 bar is used as nitro gas.
Jet-Nozzle spout
The gas is added in the nitro box but the gas/coffee blending takes place in the jet nozzle spout. The spout can be used with existing stout taps.
Required components:
Product container
Coffee in bag-in-box or canister. Unpressurized containers are preferred but kegs are also possible.
Compressed gas
N2 bottle or oil-free compressed air compressor
Cooling
Dry or water based cooler, refrigerated counter or refrigerator
Nitro-box
This is placed in front of the cooler or in the refrigerated counter/fridge.
Blender
An optional pre-mixer placed after the cooler. Only necessary for very long installations with long distances (up from 5 meters) between Nitro-box and tap.

Dispensing tower

Stout tap

Jet-Nozzle spout
Here the final blending of the gas with the coffee takes place.
Dispense Line Integration